Mercian Surgical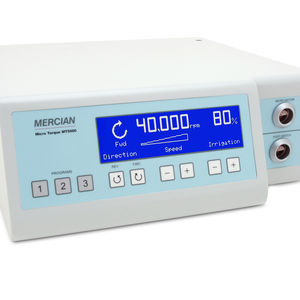 As a specialist supplier of surgical instrumentation and equipment, Mercian Surgical has been supplying hospitals throughout the UK and Ireland since 1968.
Mercian's particular strength lies in supplying instrumentation in the fields of micro surgery, spinal surgery and orthopaedic instrumentation. Products are manufactured to the highest possible standards using the most modern manufacturing processes.
As part of its extensive product range Mercian supply a surgical drill system for use in bone surgery: facial, jaw and spinal. The company were originally sourcing a drill from Germany but the supplier discontinued the product. The replacement product they were offered did not meet Mercian's requirements so with the knowledge and experience they had built up as a result of decades working in the industry, they decided to design their own surgical drill system.
As John Duffy, Managing Director of Mercian explains, "In order to develop the product to our own specification we knew exactly what we wanted in terms of design. We just needed to bring companies together to create the electronics, the software and also someone to manufacture the enclosures."
"A company we approached as a potential supplier recommended Mid Fab Developments for the sheet metal fabrication of the electronic enclosure. This appealed to us as Mercian try and source locally and Mid Fab are a Birmingham company."
"After meeting them we also liked the people. They knew what they were doing could see they were using the latest machinery and technology."
Mid Fab Developments supplies a range of sheet metal fabrication services for the surgical drill system enclosure including CNC bending, CNC punching, MIG and TIG welding, fastener insertion, powder coating and also screen printing.
John adds, "The job is quite complex in terms of welding and CNC punching. The seam at the front is difficult to create and the quality of the paint finish is very important. So it presented quite a challenging project for the team at Mid Fab Developments, a challenge they rose to and met admirably."
"Mercian maintains a high reputation in the UK market with our customers within the NHS and the private healthcare sector so we are pleased to be able to find a supplier that shares the same high standard of quality as us. In addition we find Mid Fab Developments very obliging, very open and very easy to deal with as a company."
"We are about to place an order for another 50 enclosures which is testament to how pleased we are with Mid Fab Developments as our sheet metal fabricator."
Related Pages