Quality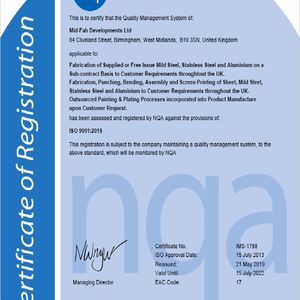 Providing quality products is a core principal to us, so the team at Mid Fab are focused on providing goods and services that meet or wherever possible exceed, the expectancies of our customers and this philosophy is carried throughout the organisation.
Our MIEtrak ERP system combined with ISO9001:2015 certification ensures a consistent and thorough approach to all parts is maintained.
Working with our customers, often from the very early stages of an enquiry we have gained an excellent reputation not only for the quality of our work, but also for our proactive approach to meeting our customer's challenges.
In fact, many of our low volume specials are the result of working with our clients to meet their specific requirements. It is in this area of expertise we can go the extra mile for our customers, achieving our goal of surpassing their expectations.
At Mid Fab we use premium materials, leave no sharp-edges, create perfect welds and employ accurate punching and bending techniques. Whether it is a prototype parts or large batches, all parts are machined to CAD and quality checked to allow the greatest accuracy and highest quality.
The business is certified to the requirements of the Quality Management System, ISO 9001: 2015, accredited by UKAS.
Related Pages